2018 – ICOM CECA Annual conference
ICOM CECA 2018 Annual conference
Museums, Education and Cultural Action: Between Old and New Meanings
24 – 27 September 2018 / Tbilisi, Georgia 
Conference web-site: www.ceca2018.ge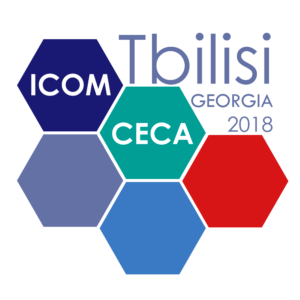 Conference organizers: 
CECA – ICOM International committee for Education and Cultural Actions
ICOM Georgia
Co-organizers
Ministry of Education, Science, Culture and Sport of Georgia
Shota Rustaveli National Science Foundation of Georgia
Tbilisi City Hall
National Agency for Cultural Heritage Preservation of Georgia
Georgian National Museum
ART PALACE – State Museum of Theatre, Music, Cinema and Choreography of Georgia
Georgian National Tourism Administration
Tbilisi State Academy of Art
Conference thematic:
CECA's name brings together two core components of a museum: education and cultural action. This conference has aimed to discuss what does the expression "cultural action" stand for. In addition to that the purpose is to consider which meanings could this concept have in different countries.
The expression "cultural action" originated as an umbrella term for actions taken to create a closer connection between the cultural and artistic community and the public, as part of the cultural policy developed in France during 1960's. Nowadays, more than 50 years later, this expression seems not to be clear anymore. The responses to CECA's survey in 2017 showed that "cultural action" is related to non formal or informal learning, meaning learning processes not connected with school groups.
Having that in mind and related with the ICOM theme for the International Museum Day 2018, Hyperconnected Museums: New Approaches, New Publics, CECA board suggested the following as a main theme for its 2018 Annual Conference: Museums, Education and Cultural Action: Between Old and New Meanings.
During the Annual Conference there were discussed: Theoretical and methodological approaches to 'cultural action' in museums: What does the term 'cultural action' refer to today? What is the connection to 'education'? How do education and cultural action contribute to the mission of museums? Which kind of cultural action does a museum implement? To/for whom? How do museums use their spaces, collections and staff to develop cultural action? As well as: Museum visits for individual visitors and families; Education and cultural action for audiences and non- audiences; Working outside the museum walls; From visitor to user (digital audiences); Museums and activism; Museums as scenery for cultural activities.
The conference was participated by more than 120 professionals of 35 countries (Italy, Germany, France, USA, Austria, Netherlands, Norway, Australia, Great Britain, Portugal, Denmark, Spain, Cyprus, Finland, China, Belgium, Greece, Canada, Northern Ireland). , Turkey, Mexico, Iran, Russia, Brazil, Argentina, South Africa, Israel, India, Qatar, Singapore, etc.), including 35 representatives of Georgian museums, as well as professors from various universities in Rome, Ulster, Murcia, Madrid, Montreal, London, Norway, Qatar, Shanghai, Amsterdam, South Texas, various Georgian universities, and lecturers of Museology MA programs.
The conference hosted a presentation of CECA Best Practice winners and an award ceremony; Free professional workshops were held for conference participants and delegates upon pre-registration; Also opened the exhibition of artist Katie Matabeli and her creative group – "I see and create with my fingers."
The CECA 2018 Conference was held in the framework of the European Year of Cultural Heritage 2018 and the Festival of Science and Innovation.
Conference photo-album: ICOMGeorgia/CECA
ICOM CECA – The Committee on Museum Education and Cultural Actions is one of ICOM's oldest international committees, bringing together more than 1,000 members from 85 countries around the world. CECA members can become museum specialists, curators, professors, etc. CECA aims to promote the development of museum education and cultural actions; Organizing international forums for the exchange of information and cooperation between specialists in the relevant field of the museum field; Develop a program of activities for members; Promoting scientific research; Development of professional standards; Collaboration with ICOM national and international committees, as well as regional organizations, to promote and improve education and cultural events around the world.