All news
February 23, 2023
After a year of the still current terrible war in Ukraine, ICOM Georgia strongly re – condemns the violation by Russia of the territorial integrity and sovereignty of Ukraine and the deliberate destruction of Ukrainian culture. Statement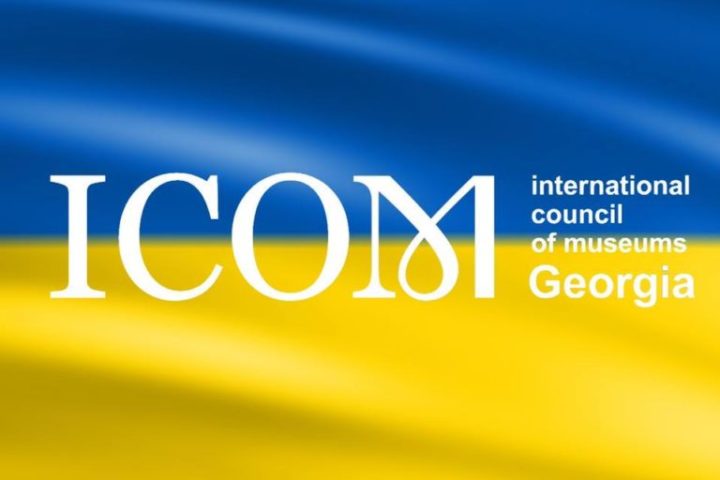 One year after Russia's declaration of war on Ukraine ICOM Georgia re-calls its strong condemnation of the violation from the Russian Federation of the territorial integrity and sovereignty of Ukraine and expresses its full solidarity with its colleagues in Ukrainian museums.
Over the past year ICOM Georgia together with the international museum and heritage organizations united efforts to support Ukrainian colleagues with fundraising campaigns, facilitation via different forums and panel discussions and joint statements, expressing solidarity with Ukrainian colleagues in assessing the scale of damage to the country's cultural heritage.
———–
ICOM – International Council of Museums in its last statement of this week, "condemns the loss of life and damage to cultural heritage that has been caused by Russia's aggressions and expresses its strong support for colleagues in Ukrainian museums and their efforts in extremely challenging circumstances." ICOM network over the past year has come together to promote and support the safety and security of museum professionals and cultural heritage across Ukraine. ICOM underlines the importance of both reflecting on and remembering that which the ICOM network has achieved together, and continuing to promote and support the safety and security of ICOM members, museum personnel and cultural heritage across Ukraine.
UN statement this week, said: "One year on since the escalation of hostilities, numerous sites, institutions, and objects of cultural, historical, and religious significance in Ukraine have been partially or entirely destroyed by military attacks by the Russian Federation… UN called on Russia to cease the "deliberate destruction and damage of sites, institutions, and objects of cultural, historical, and religious significance in Ukraine", violating the 1954 Hague Convention for the Protection of Cultural Property in the Event of Armed Conflict. UN is "concerned by the severe targeting of Ukrainian cultural symbols. Cultural resources – such as repositories of Ukrainian literature, museums, and historical archives – are being destroyed, and there is a widespread narrative of demonization and denigration of Ukrainian culture and identity promoted by Russian officials, along with calls for ideological repression and strict censorship in the political, cultural and educational spheres. Let us be clear: the Ukrainian people have a right to their identity. Nobody can violate this right."
ICOM Georgia joins the other committees calling on ICOM – to issue today a clear message and agreed on guidelines that once again firmly underline the values of our organisation, its rules and the international conventions and obligations that are binding on its members.
———–
In 2023 ICOM Georgia together with ICOM Ukraine, Blue shield Georgia, National Museum of the Revolution of Dignity – HERI, State Silk Museum and the Georgian Heritage Crafts Association will carry out the project "Integrate and Empower Ukrainian Heritage Communities in Georgia through employment opportunities and awareness raising campaign", funded within the ICOM Solidarity Projects Ukraine.